Seminar: Power in Patterns – With Master Meyour and Mira Sjövall
Want to get more out of your ITF Taekwon-Do patterns? Don't miss the seminar with Master Thierry Meyour and Mira Sjövall: Power in Patterns! This special seminar will take place on Sunday January 26th in Amsterdam, at Taekwon-Do School Amsterdam.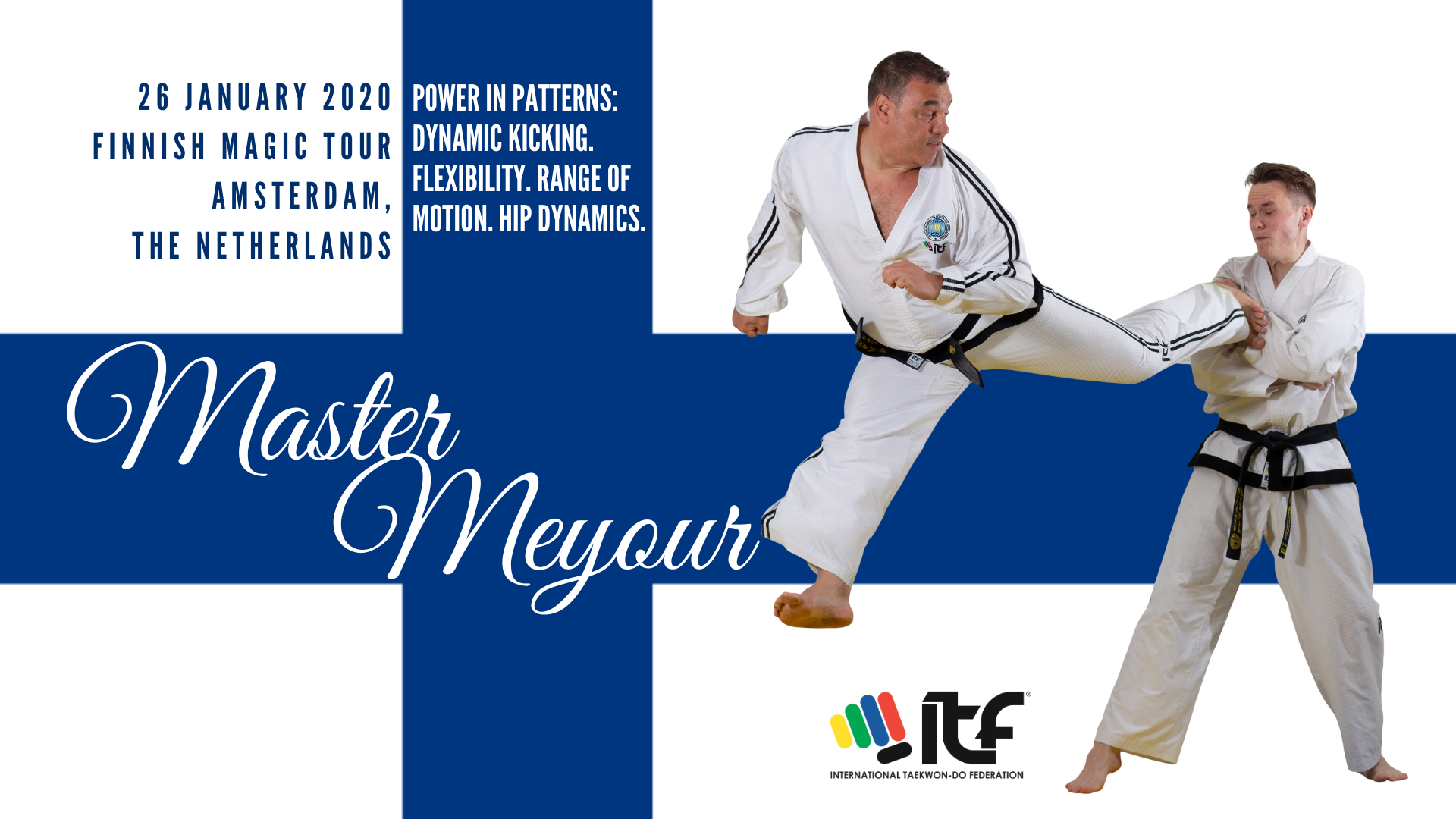 Attend this event on Facebook!
About this event
On Sunday January 26th, Master Thierry Meyour and his top student Mira Sjövall will come to Amsterdam for a seminar, themed "Power in Patterns".
You will take home many tips on how to make your patterns even more powerful. You will learn how to kick more dynamically, how to gain more flexibility and range of motion, how to utilize the hip and the core for more explosiveness, and much more.
Master Thierry Meyour is the national coach of Finland and combines decades of experience with the latest scientific insights on how to use the mind and the body for better performance in sports. He gladly takes inspiration from other athletes, as well as within the realm of martial arts as beyond.
Mira Sjövall is a member of the Finnish national team and has already gathered many national and international titles along the way, among which both those of European and World Champion.
So do not miss out on this wonderful seminar!
Limited amount of tickets available
Win: Open Dutch 2020

Are you competing in the Open Dutch 2020 in Helmond? Then you can win a FREE ticket for the seminar Power in Patterns with Master Thierry Meyour and Mira Sjövall.
All junior and senior black belts with a golden medal in Patterns can join the seminar FOR FREE!
So put your game face on!
Links
This seminar is hosted by Taekwon-Do School Amsterdam. Questions? Please contact us at info@taekwondoschoolamsterdam.nl.
How to get there
The address is Jan van Galenstraat 31 in Amsterdam. You'll find the entrance of Taekwon-Do School Amsterdam on the right side of the building of the Marcanti College. Just go up the stairs and ring the right doorbell. Go up to the top floor.
Public transport
Bus 18 stops in front of the school. At less than 5 minutes walking, you will find trams 3, 10, 12 en 14, bus 15, regional busses 80, 82 and rush hour line 247.
Plan your trip on 9292 ›
By car
The school is easily reached from motorway ring road A10 West. Take exit S105 and follow the signs to "Centrum". You will directly be on the Jan van Galenstraat. After 1750 meters you will find the school at your right-hand side. There is enough parking space around the school. Caution: paid parking.